Internet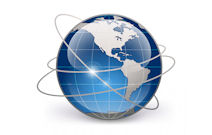 Internet services
Optical Fiber Internet
Optical Fiber Internet
 is the optimal solution for today's bandwidth intensive applications such as Cloud Computing, virtualization, video conferencing and bandwidth sensitive applications like
Voice Over IP services (VoIP)
. Optical Fiber (optical fiber network) is the fastest, most robust and reliable data transport system on the market today.
Optical Fiber Internet Options :
5 Mbps
10 Mbps
100 Mbps
1 Gbps
10 Gbps
Most connections come with Unlimited Monthly Usage and Multiple Fixed IP Addresses for optical ethernet.
Advantages of Optical Fiber Internet:
Extremely powerful high speed Internet connections : In terms of pure internet speed, nothing beats an optical fiber connection.
More upload power : Most other types of high speed internet services such as cable and DSL offer nothing more than 1 Mbps of upload speed. This modest upload bandwidth might not be enough for applications that demand more upload speed like streaming videos, VoIP and online data backup. Remote users might suffer from high latency if the servers at the office are connected to the internet through an internet connection with a weak upload bandwidth. Optical fiber offers greater bidirectional Internet throughput capacity that significantly accelerates file and information transfers. Greater download speeds AND greater upload speeds.
Same download and upload speed : Optical fiber offers symmetrical bidirectional bandwidth.
Stability : Optical fiber offers the best service stability of the industry at 99.99%.
Scalability : In most case, in take only a few minutes to upgrade an optical link to a higher speed.
Quality of Service (QoS) : It's possible to customize an optical fiber solution to guarantee a certain level of quality for bandwidth sensitive applications such as VoIP. We can either reserve a certain amount of bandwidth for specific applications or we can implement an MPLS solution that will prioritize traffic based on a weighted value for each application.
Unlimited bandwidth usage : We offer unlimited usage on most of our Internet connections.
Versatility & Adaptability : Optical fiber is an extremely versatile medium that allows to offer not only internet service, but also phone lines (SIP), alarm (AoIP), TV, etc. More and more applications are created each day and they demand more and more bandwidth.
Easy network integration : We deliver our optical fiber connections on a media converter to allow a simple traditional RJ45 connection to your networking equipment. Our team of qualified technicians and engineers can also support you in the process.
Gain corporate flexibility and accessibility : Companies can become content and application providers for their users, whose mobility is increasing with the popularity of telecommuting connections, telephones and other intelligent devices.
Great element of a complete Disaster Recovery Plan : With optical fiber we can easily plan routes diversity and meshed network topologies that optimize the efficiency of systems contingency and recovery plans.
Top priority VIP repair service in case of failure : Did you know that optical fiber connections are backed up by a complete SLA (Service Level Agreement)? This Agreement defines each aspect of the quality of services that you should expect from your optical link. Therefore, you can rest assured that your optical connection will provide optimal uptime and will be repaired within a maximum of 4 hours in unlikely event of a failure.
Cable Internet
Cable internet
is often the best compromise between speed, reliability and price (Internet cable montreal for example). Cable internet provides great download speeds and better upload speed compared to DSL.
Cable Internet Options :
Cable Regular : 8 Mbps download, 1 Mbps upload, 40 GB of monthly usage, semi-fixed IP
Cable Dedicated : 10 Mbps download, 1 Mbps upload, Unlimited monthly usage, fixed IP
Advantages of cable Internet:
Best compromise between speed, reliability and price.
Better upload speed than DSL : typically DSL maximum upload speed is 820 Kbps. Cable can offer 1 Mbps (1000 Kbps).
More reliable than DSL : Cable internet is delivered through a coaxial cable (TV cable). The coaxial cable infrastructure is fairly new compared to the old copper network used to deliver traditional telephone lines and DSL internet. Therefore you can expect less repairs and more stability on a coaxial network.
Speed uniformity : A regular cable internet access will give you 8 Mbps of download speed. This is the actual theoretical speed that you'll get with cable internet. On the other end, DSL internet connection speed can vary a lot.DSL internet speed is intimately dependent on the quality of the copper network in your neighborhood and your physical proximity to the nearest CO (Central Office). These factors are not an issue with cable internet. As an example. a typical DSL connection will be sold as a DSL internet up to 6 Mbps. So, depending on the quality of the copper network and your proximity to the nearest CO you might end up getting a theoretical l internet speed ranging between 1 Mbps and 6 Mbps.
DSL Internet
Digital Subscriber Line (DSL) internet
is installed on a copper (phone) line. Typically we install it on a fax line, or even better on a dedicated dry-loop. A dry-loop is like telephone line, except you cannot make or receive calls. It's only used as a medium to support the DSL service.
DSL Internet Options :
ADSL Light : up to 512 Kbps Download & 512 Kbps Upload, Unlimited monthly usage, Fixed IP option available
ADSL PPPOE (Shared) : up to 6 Mbps Download & 800 Kbps Upload, Unlimited monthly usage, Fixed IP option available
ADSL Dedicated : up to 6 Mbps Download & 800 Kbps Upload, Unlimited monthly usage, Fixed IP option available
Advantages of DSL Internet :
Least expensive option : lowest monthly and installation fees. The light version is perfect for applications that require almost no bandwidth such as POS Terminals, ATMs, etc.
Unlimited usage
Fixed IP addresses : as many as you want, as long as they can be justified.
Better availability : Typically DSL technology is available in areas where cable or optical fiber internet are not be available.
Wireless Internet
Wireless internet is a preferred solution in geographical area that are not covered with traditional wired services. It can also represent an affordable backup solution.
Wireless Internet Options :
Wi-Fi
Microwave
Cellular : Internet Sticks & Internet Wireless Hubs
WiMAX (Worldwide Interoperability for Microwave Access)
Satellite
Fixed wireless : Usually, fixed wireless is part of a wireless LAN infrastructure. The purpose of a fixed wireless link is to enable data communications between the two sites or buildings. Fixed wireless data (FWD) links are often a cost-effective alternative to leasing fiber or installing cables between the buildings. Fixed Wireless uses directional, narrow beam, point-to-point (PTP) antennas and radios.
Advantages of Wireless Internet :
Better geographical coverage : wireless internet is often the only solution available in remote areas
Cost-effective alternative : sometimes it's a lot less expensive to invest in a wireless network in comparison to the astronomical construction and installation fees of some wired projects. Always keep this alternative in mind when you are challenged with high network deployment costs.
Excellent backup solution : definitely a great solution for bandwidth complete route diversity. Some routers are now equipped with a SIM slot to allow a cellular internet backup in case of failure of the main internet link.
Flexibility : you can easily move a wireless solution which can be an interesting element for some projects. Wireless is also a very interesting option when it's impossible, illegal or too expensive to cable a building.
Mobility : with the internet sticks and wireless hubs technologies you can quickly establish an internet connection where ever cellular service is available. The wireless hub can also be programmed to provide a telephone line (IP). The wireless hub can also support internet POS terminals. This is also a great alternative for temporary projects, outdoor projects and seasonal businesses.