Networks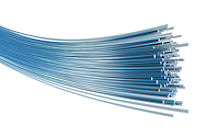 Networks services
Private Optical Networks
Private networks provide unparalled performances and superior security.  It's simply the best connectivity option for companies that have multiple sites (Gigabit Ethernet). Productivity is also improved on private networks because latency is reduced, applications run faster and data exchange is optimized between each site. All sites on a private network are actually acting like one single location in terms of communications flow.
Private Network Options :
Point-to-Point private optical fiber connection
International point-to-point transport
Virtual Private Network Options :
Ethernet Virtual Private Line service (EVPL) : This service is a Layer 2 point-to-point connection. It gives you the freedom to transport any data that is Ethernet compatible. An EVPL point-to-point connection is established going through the provider's backbone, usually an IP MPLS internet backbone. This option provides great connectivity at a cost lower that traditional private lines.
IP VPN (IP Virtual Private Network) :  Traveling employees like salespeople and management need a secure and reliable way to connect to their business's computer network from remote locations. One popular technology to accomplish this goal is a VPN (Virtual Private Network). A VPN is a private network that uses a public network (usually the Internet) to connect remote sites or users together. The VPN uses "virtual" secured connections, or encrypted tunnels, routed through the Internet from the business's private network to the remote site or employee. By using a VPN, businesses ensure security. Anyone intercepting the encrypted data can't read it.
IP MPLS with Dynamic QoS (Quality of Service) : MPLS (Multiprotocol Label Switching) technology is ideal for the implementation of your IP private network, because it allows contextual virtualization of a routing table specific to each client environment and differentiation of the types of traffic circulating on the network. For example, the packets identified as voice can be prioritized over any other types of data. provide a private networking solution that outsources the problem of connecting many diverse locations. The cost of operating the network is shared among the user base, which makes it very cost effective for each user compared to running their own completely private network. MPLS networks are also easily scalable. If you build your own network from T1 lines or DS3 services, it can be a nightmare to upgrade bandwidth across the network. With an MPLS solution, you simply request additional resources from the service provider. You can also add or delete service locations much easier than you may be able to with long haul point to point line services. You only need an access connection to the MPLS "cloud" which is at the service provider's nearest point of presence.
Advantages of MPLS :
Traffic Engineering: Since the MPLS packets are being added at the MPLS Edge routers, it is possible to set the path that the traffic will have to take through the network. More specifically, each class of traffic (like data, voice, video etc) can be set individual performance characteristics.

Quality of Service: Since MPLS network enables traffic engineering, it is possible to send (for example) – data traffic over a lower priority path and real time delay sensitive voice/ video packets over a high priority/ lesser used/ shorter path. This enables network convergence (The Wide Area Network becomes more suitable for introduction of new services like voice, video, multicast traffic, hosting etc).

Network Redundancy: An MPLS core network is generally designed and built to overcome individual hardware (router) faults or line disconnections. In such cases, the data is re-routed through the next optimum path with a failover time of 50 ms or lesser. Even the last mile connections can be backed up using CDMA wireless back up etc, depending upon the options with the service provider.

Easy and Cost effective Expansion: Let us assume that the cost of connecting two sites by using Point to Point Leased Lines versus MPLS circuits comes to a ratio of 1:1 (For two sites there is only a single link required for both and hence the cost is same). But when it comes to interconnecting five sites (as shown in the above diagram), the number of links required for Point-to-Point Leased Lines would be 10 while for MPLS circuits, it would be only five and hence the corresponding cost ratio would be around 5:1 (Point to Point Leased Lines : MPLS Circuits). So, for organisations that are having a lot of branches or expanding with new branches, MPLS network would be very cost effective. MPLS also provides for instantaneous addition and deletion of sites.

Protocol Independent forwarding: MPLS networks can carry any type of packets – be it IP, frame relay or ATM using the same infrastructure. This is because, what ever type of packets comes in, MPLS labels would be attached to it for transmitting them over the MPLS network and these labels are protocol independent.

Connection oriented network: MPLS is a connection-oriented network unlike connection less networks like IP. So, it is more reliable.

Service Level Agreement (SLA): Service Providers generally provide an SLA – Service Level Agreement for MPLS networks with a guarantee of very minimum downtime during the contract period (usually one year or its multiples). This is possible because an MPLS network can be pro-actively monitored and maintained. It is possible to analyse the circuit performance continuously and provide immediate fault rectification and support.

Bandwidth Allocation: MPLS networks allow for dynamic bandwidth allocation and hence can be used to provide bandwidth on demand (for a specific period etc) to customers. Further, rate limiting and other bandwidth management parameters allow a certain bandwidth to be dedicated for mission critical applications.

Security: Service providers take full responsibility for the security of information that is sent over an MPLS network. Service providers also create IP tunnels throughout the network without the need for any encryption from user-end.

International MPLS: There are options with service providers to even connect individual locations across different countries using MPLS by sharing and inter-connectivity of their respective MPLS networks. International MPLS lines are more cost effective than dedicated IPLC's.

Lesser Hops: With an MPLS network, there are lesser number of hops between the various network points resulting in improved response times and application performance.
Dark Fiber
 Dark fiber or unlit fiber is an unused Optical fiber that you can use to create your own network.
WAN Optimization
To Order or for a Quote Request, please click on the Visit the Riverbed Showcase button above and go to Contact.
A customer's Wide-Area Network (WAN) is the foundation of their globally connected enterprise, enabling collaboration, communication, business productivity, and risk mitigation. The performance of their WAN is critical to everything customers do. With Riverbed WAN Optimization solutions, their business runs faster and more efficiently, delivering consistent service levels and cutting the costs of their IT infrastructure.
WAN Optimization are a series of products and methods to accelerate a broad range of applications accessed by distributed enterprise users via eliminating redundant transmissions, staging data in local caches, compressing and prioritizing data, and streamlining chatty protocols. WAN optimization also helps avoid packet delivery issues common in shared WAN environments, like MPLS (mpls network) and Internet VPNs (or WAN internet). Those techniques will boost your company's productivity and help you save money. Stop upgrading your costly bandwith and let us optimize your network traffic instead.
Since their WAN is fundamental to so much of our customer's business, WAN optimization can deliver massive improvements to a wide range of their top IT initiatives:
Accelerate application performance up to 50X, increasing business productivity.
Consolidate in the branch and datacenter, and see a 6-month payback.
Optimize file sharing, web, email and even voice video – all at the same time.
Leverage cloud economics without compromise.
Protect data more completely, with less cost and effort.
Solve problems up to 83% faster.
Riverbed leads the WAN optimization space, with the most innovation around the most comprehensive offerings, and the most performance for the most applications. Oh, and the most happy customers, too.
WAN/Internet optimization techniques :
Deduplication - Eliminates the transfer of redundant data across the WAN by sending references instead of the actual data. By working at the byte level, benefits are achieved across IP applications.
Compression - Relies on data patterns that can be represented more efficiently. Essentially compression techniques similar to ZIP, RAR, ARJ etc are applied on-the-fly to data passing through hardware (or virtual machine) based WAN acceleration appliances.
Caching/Proxy - Relies on human behavior, accessing the same data over and over.
Forward Error Correction - mitigates packet loss by adding an additional loss-recovery packet for every "N" packets that are sent, and this would reduce the need for retransmissions in error-prone and congested WAN links.
Protocol spoofing - Bundles multiple requests from chatty applications into one.
Latency Optimization - The local WAN optimiser answers the requests of the client locally instead of sending them all the way to the server, giving a write-behind and read-ahead mechanism the possibility to reduce the delay of the WAN.
Traffic shaping - Controls data flow for specific applications. Giving flexibility to network operators/network admins to decide which applications take precedence over the WAN. A common use case of traffic shaping would be to prevent one protocol or application from hogging or flooding a link over other protocols deemed more important by the business/administrator. Some WAN acceleration devices are able to traffic shape with granularity far beyond traditional network devices. Such as shaping traffic on a per user AND per application basis simultaneously.
Equalizing - Makes assumptions on what needs immediate priority based on the data usage. Excellent choice for wide open unregulated Internet connections and clogged VPN tunnels.
Connection Limits - Prevents access gridlock in routers and access points due to denial of service or peer to peer. Best suited for wide open Internet access links, can also be used on WAN links.
Simple Rate Limits - Prevents one user from getting more than a fixed amount of data. Best suited as a stop gap first effort for a re-mediating a congested Internet connection or WAN link.
Networking Equipment
Switches
Routers
Firewalls
Gateways
Uninterrutible Power Supplies (UPS)
Load Balancers

Data Centre Colocation
Colocation space only the the best World Class Data Centers.
Available rack space options :
1U, 1/4 rack, 1/2 rack, 1 full rack.
Professional IT Services
Networking Audits, Security Audits, installations, programming of networking equipment, cabling, wireless networks.
24/7 Service Desk Phone Support
Technical support
Application support
Peripheral support, such as: Smartphone's, Blackberry©, Firewall, routers, etc.
On-Site technical support
Level 1, 2 & 3 technical support
Level 1: Service Desk
Level 2: Computer equipment
Level 3: Network & Server support
Level 3S: Network & Data Security
Services
Network Monitoring
Network Optimization
Back-up Services
Hosting Services
Professional Services
Disaster recovery program
Network & Data Security
Long and short term outsourcing
Planning & Project Management
IT Environment Analysis
Security Analysis
Secure Data Destruction