Telephony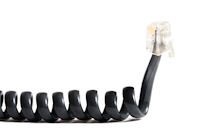 Telephony services
Telephone and Fax lines
Charitel offers reliable standard
telephone and fax lines
for your business with all the features that you can imagine. We have telephone solutions like basic lines and enhanced lines. We can install our lines all across Canada and Quebec and our prices for our business phone service are competitive.
PRI / VoIP PRI
Typically, if your organization has 15-20 regular telephone lines or more, you should definately consider switching to a
PRI
for immediate savings and added scalability. In a regular environment, a PRI could easily support 50 people or more, a complete business phone solution for Voip provider canada. A traditional TDM
PRI
(
P
rimary-Rate Interface), is
 a type of  ISDN service designed for larger organizations. A PRI consists of a pool of 23 telephone lines that can be shared among a group of users. An additional line, the D-Channel controls the quality and proper routing of all calls on the PRI. A
VoIP PRI
is the ideal tool for all VoIP Providers and any company that would like to benefit from the advantages of a VoIP environment. This allows you to easily port telephone numbers from your customers and backhaul their calls originating from any of the 700 Canadian cities we support right back to your VoIP equipment's single location at
NO ADDITIONAL COST
. (Also available in the USA).
VoIP PRIs are available in 2 different formats :
National Unlimited Bi-Directional VoIP PRI - These PRIs are provisioned to allow for unlimited DID inbound traffic from any of the 700 cities we originate from, all on a single trunk.  This gives you the ability to greatly expand your local access footprint well beyond your existing reach without having to build out by rate/data center; a costly proposition.  This trunk also allows for unlimited outbound traffic into the same 700 cities virtually eliminating all your Canadian long distance toll costs.
Regional Unlimited Bi-Directional VoIP PRI – These PRIs are similar to what the CLECs and ILECs traditionally offer whereby you build out by rate center/city i.e. Montreal, Calgary, Vancouver etc…  Also allows for unlimited inbound and outbound traffic, however, only by rate center and adjacent local cities.
Advantages of a PRI over single lines :
Cheaper : A traditional PRI represents a total of 23 channels or if you prefer, 23 available lines that can be shared among all the users. The price per line, on a PRI, is cheaper that single lines.
More flexibility : you can create trunk groups within a PRI. You can also quickly add, edit, or delete DIDs (Direct lines) instead of having to wait a few days before adding an extention.
VIP Service at the carrier level :  when a single line needs service it might take 24-48 hours before a technician shows up. With a PRI, the carriers must fix any problem within a maximum period of 4 hours.
To install a PRI, you must make sure that your phone system has a PRI Card.
SIP / VoIP Lines
You've heard a lot about
VoIP (Voip telecom)
. Good things, bad things. You feel that this is the new trend but you really don't know if it's the right technological choice for your company. We invite you to read the following document that gives you all the pros and cons of VoIP, why you should or should not consider it, and what you need to have a VoIP solution that performs like a traditional system.
Our suite of proven IP voice services can help you access the latest technology, increase productivity and reduce costs. voip montreal
Long Distance
We offer great rates for all your
long distance and international calls
. We only provide Tier 1 class of service to our customers to guarantee optimal quality of service.
Calling Cards
We provide
Corporate Calling Card Systems
and we also have special calling card programs for students. Remember using a calling cards is a great tool to
reduce your cellular long distance charges.
Conferencing Services
Easy,
instant conferencing
- no reservations required
Conference on-demand
with reliable teleconferencing service. Maintain permanent, toll-free (North America) and toll (International) access for critical meetings. Enhance the productivity of worldwide collaboration any time of day or night.
Subscription service - one-time set up for convenient conferencing on-demand.
Online tools - phone keypad commands and our Web Meeting option give you complete control for a dynamic conference configuration.
Multi-level passcodes - maintain chairperson control and conference security.
Redundant systems - offers disaster protection and the ultimate in reliability.
Quick start* - allows conferences to begin without requiring the Chairperson to start the meeting.
Auto continuation* - allows all conferences to automatically continue until the last person disconnects.
Record - record your conference using telephone touchtone commands.
Manage recordings - online recording file playback, hosting and management.
Global "800" numbers - global reach, local convenience, unmatched reliability.
Toll-Free (1-800) Services
Let your customers reach you free of charge. Did you know that you can attibute a different
1800
for each of your marketing campaigns to monitor the results. This way, each month you'll see how many calls were generated for each of those campaigns. We can also help you find an attractive and easy to remember vanity numbers with our online tools (Ex; 1-866-COMPANY)